When planning a trip you can always expect the unexpected and run into last-minute changes. The original plan was to travel from Chicago to Denver via train with a pit stop in Lawrence, Kansas to see my grad school roommate. Unfortunately, she started a new job that required training in New York. My plan to see the middle of the country would have to wait. Or so I thought, but more on that later.
After splurging for the train accommodations from New York to Chicago, my wallet wouldn't let me justify repeating that decision so I did the 21st-century thing and took a plane. *sarcastic facepalm moment*
Denver almost didn't make the original itinerary. When I laid out all the cities for consideration, I found myself at a crossroads. It was either Salt Lake City or Denver but not Salt Lake City and Denver. I'd only been to Denver once almost a decade prior and hated it.
Despite the fact that we had family friends in Salt Lake City, I decided to give Denver a second chance, a decision based solely on the backs of my friends that have been hyping up Denver for years. Second chances and new experiences are cornerstones of this journey and so it felt like the right decision to make.
The Good
Nature. It's no secret that I'm a beach baby and that my favorite outdoorsy activity is going back indoors. That said, I think I get the nature thing now. One of the coolest things about Denver is the mountain towns surrounding it and the endless acres of nature all around you.
One experience, in particular, stood out to me: the Mt. Evans Scenic Bypass. It's North America's highest paved road, rising 14,000 feet to the peak. It's also fucking terrifying to drive up in the areas where there are no guardrails. Once I conquered my panic attack I made it to the top (well, 12,000 ft) since the top was closed because of snow. Once up there, it was completely serene. Otherworldly, even. Between the extremely thin air and the beauty, my mind achieved a peace it's never felt before.
Immersive Art. Denver has an incredible art and street art scene but the immersive art is where it really shines. I had a chance to go to three during my time there. Two were smaller, local efforts, Shiki Dreams and Novo Ita, which were located in a small warehouse and backyard area, respectively.
Meow Wolf, however, takes the cake without question as the most intense and amazing. First of all, it's HUGE. You can literally spend 2-3 hours without seeing the same space twice. There are so many exciting worlds to explore, tons of unique themes, and lots of different ways to interact. You might want to take a Valium before you go if you're worried your brain might get overstimulated.
Drag, drag, and more drag. While the pandemic has raged on, there are two things I missed the most: karaoke and drag shows. Denver has an incredible drag scene with so many talented performers, which include cis women and trans queens. One of my favorite queens from RuPaul's Drag Race, Yara Sofia, had a show scheduled while I was there and I got my WHOLE LIFE, as you can see by the photo.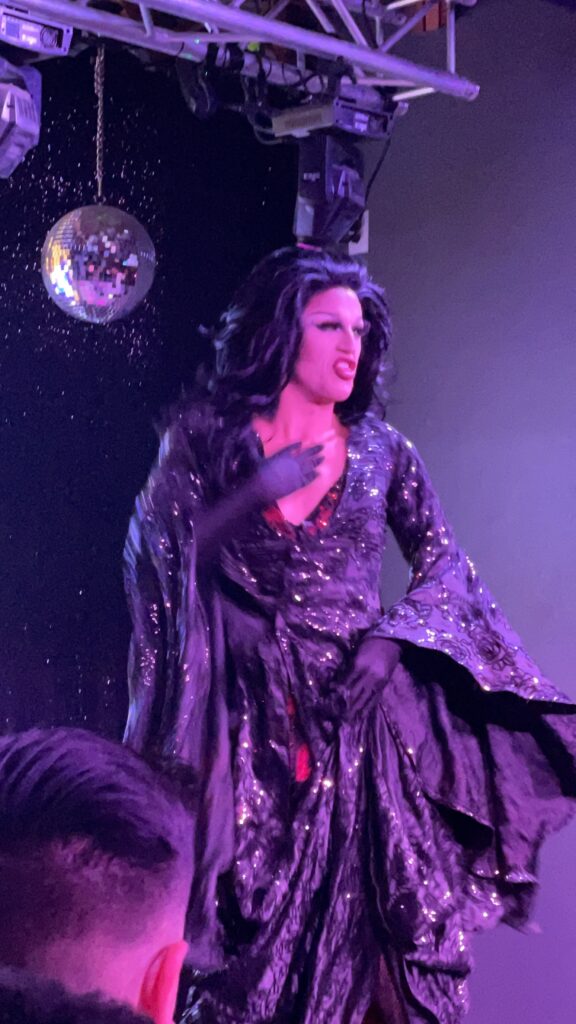 The Bad
Climate. The first couple of days I had a serious headache which I would attribute to the altitude. Being closer to the sun makes 90 degrees feel a whole lot different than when you're at sea level. Staying hydrated and moisturized is of supreme importance in this area.
Walkability. There are certain districts that are walkable towards the center of the city. There's also a light rail system that decently connects the city with the suburbs but aside from that Denver and Colorado at large is really car-centric which I suppose makes sense given all the nature to explore. Regardless, car culture is not a plus for me.
Homelessness. Every city has its own homeless crisis but it is pretty outrageous in Denver to the point that they had to close a park outside of City Hall because of crime and violence. I can't say much being from San Francisco but Denver is close to the top of the list in terms of the homelessness I've seen this year.
Being Queer in Denver
Denver is very queer-friendly with a lot of venues and activities for the community weekly. For the surrounding areas, the jury is still out, but the city proper felt very safe.
One of the most unexpected things to happen was that your girl fell in love! On the first date!! And guess what else?!….the feeling is mutual!!! Call it cliché, but if I lived in Denver (and if my lady love wasn't moving out of Colorado), a UHaul probably would've been booked that same week. I spoke earlier on my journey this year about heart awakenings, and I feel like that experience opened me up to feel the depths of love and happiness in my heart.
Being Black in Denver
Honeyyyy…..Denver is SO GOD DAMN WHITE. I knew it going into this, but to experience it was something else. I haven't felt that "othered" since I was in Nashville. That said, I never felt like anyone was rude to me and I never felt unsafe or threatened, just different. The black people I did meet there that grew up there acted like they were in the sunken place from Get Out. Perhaps it's a byproduct of being a minority in an overwhelmingly white state but it's still off-putting.
My best friend visited for her birthday weekend and after we left Rocky Mountain National Park we realized that Cheyenne was only an hour and a half away. When would we ever go to Wyoming? Never. So we took the opportunity and went. I have to say, it was far cuter and more welcoming than I expected. The most surprising thing? A record store/skate shop that had an impressive amount of Wu-Tang Clan paraphernalia in it. Who knew?
Final Thoughts
Second chances are important. Had I not given Denver a second chance, I wouldn't have experienced all of the amazing things it has to offer. I wouldn't have found peace on Mt. Evans. And I wouldn't have fallen in love. I guess the lesson here is that first impressions shouldn't be the only impression.
Will I be back?
Absolutely, especially if things work out in the love department.
Could I see myself living there?
No. There's a lot more to Denver than the first time I visited 9 years ago but being in a landlocked city/state doesn't work for me as we learned in Atlanta.
City Ranking
1. St. Petersburg, FL
2. Playa del Carmen, MX
3. New York, NY
4. Charlotte, NC
(Philadelphia, PA)
5. Chicago, IL
6. Denver, Co
7. Washington, DC
8. Atlanta, GA
9. Austin, TX
(Nashville, TN)
Next City
Seattle, WA
Bring on the rain!
---
Did you enjoy this story? Subscribe to our weekly newsletter to find out when new stories are published.
Learn how to join our Writers Cohort here.
Follow us: