You had me at hello.
Although I met awesome people and ate great food in Austin, I was ready to leave its car culture and winter freeze behind. From the moment I left the airport, I felt like I had been transported into a different dimension. With the tropical breeze against my skin, I suddenly found myself at ease.
The Tampa Bay Area is truly one of Florida's best-kept secrets. With all of the "Florida man" headlines, swamps and sinkholes, and the Cheeto Supreme situation in South Florida, I can see how easy it is for it to get lost in the chaos. It's a decently sized blue area in what I consider to be the most "WTF state in America." The entire region is worth exploring, but St. Petersburg – or St. Pete as it's commonly known – is the crown jewel.
I was told to stay in the Kenwood neighborhood thanks to a friend's recommendation. After getting settled in my Airbnb, I could see why. Just one block away is the main street, full of pride and trans flags, bars, shops, and more. I was in heaven.
Growing up, I've never really felt like I "fit" anywhere in the world. It was always hard to see myself as one of the people in the crew. That is when I even had a crew. St. Pete welcomed me with open arms and I felt like I had finally found where I belong.
It reminded me of the San Francisco that I grew up in: black/white, gay/straight, old/young. No one really cared what you did or how you identified, it was only about if you were a decent person. Formerly a sleepy town just south of Tampa, St. Pete has gone under some serious transformations over the past decade. It has been modernized, acquired more amenities, and has certainly become gayer. They proudly boast one of the largest Pride festivals in the country.
Funny enough, I found myself constantly confused when I would see "Bay Area" written everywhere only to realize that the residents around Tampa Bay also call it the Bay Area. Honestly, it was rather cute to know that there is a "mini Bay Area" out there. It also made me wonder if this nickname applied in Green Bay as well. But, I digress. Let's jump into St. Pete.
The Good
Walkability. The transition from Mexico to Austin was not just about language but also, access. Most of Playa del Carmen was incredibly walkable. Austin…not so much. With that in mind, I was pleasantly surprised to see people out and about on my morning walks. The primary spine of the area is Central Avenue and nothing is painfully far away. There is definitely neighborhood pride no matter which corner of the city you find yourself in.
Food. If you've been following along, you know I'm a huge foodie. Florida is home to all types of seafood that is normally unavailable to a majority of the US. There is a good variety of food and bars in the area (more on a few standouts in a bit). To discover the different places I checked out, you can see them here.
Art. A common thread across each location has been the street art, but St. Pete has its own special spin. A lot of the art takes inspiration from classic tales, books, and movies, while others are original works of art. Almost every block will have you in awe of one mural after the other.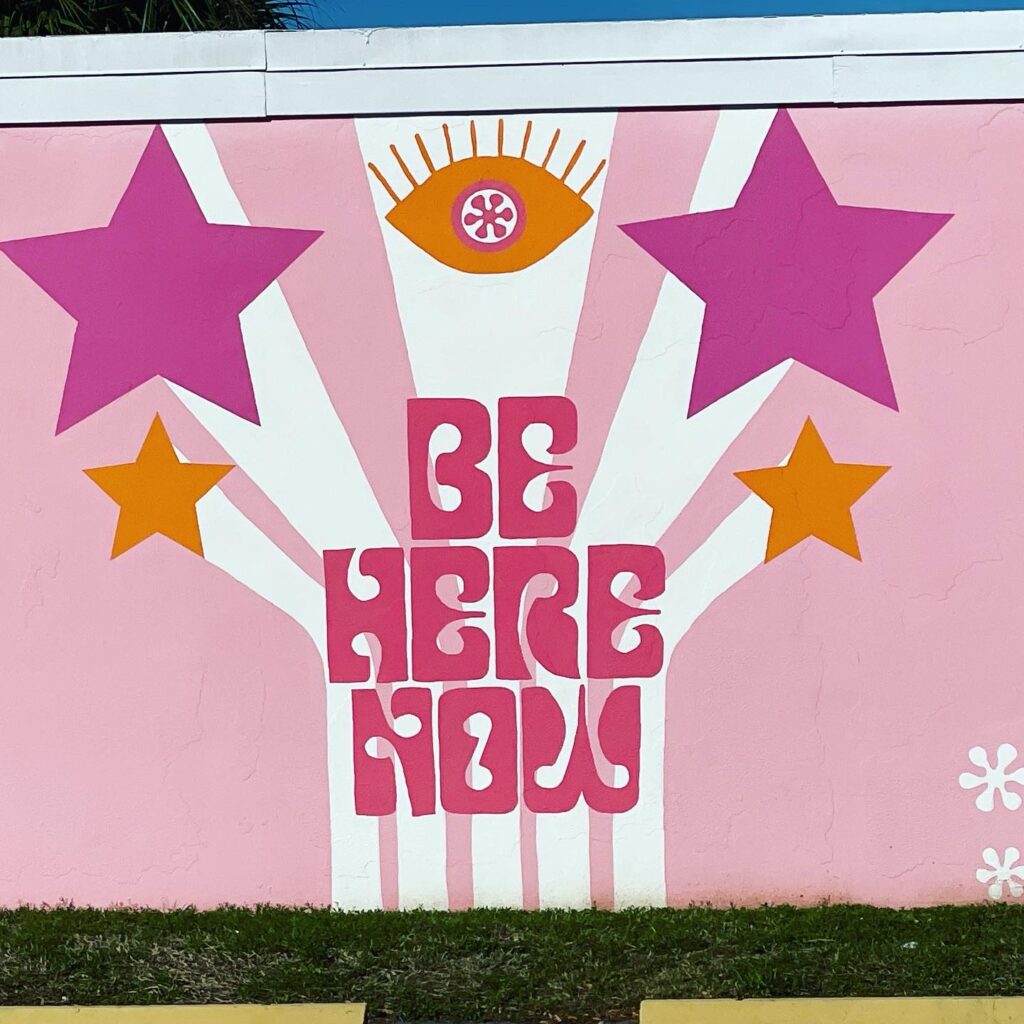 People. Texas definitely had the "Southern hospitality" thing down. The people of St. Pete are on a whole other level. Let me be clear: it's not all rosy. In some parts, you'll inevitably find a T***p sign here and there, but that's few and far between. I've never felt so welcomed by people in the neighborhood. From the baristas to the shop owners, bartenders, or random people at a restaurant, everyone was friendly and welcoming. Each had their own story to tell. Some had lived in the area their whole life, while some had moved in less than a year ago, having no plans to leave anytime soon. By my last week, I had compiled a list of people to say goodbye to because they had meant that much to me in such a short time. I made friends on my adventures, y'all!!!
Quirkiness. So I typically would not do this, but there were two places that stood out to me in this beautiful city. One Saturday afternoon, I found myself on a usual walking adventure and passed a few local restaurants and clothing stores. I'm not big on shopping, but the stylish storefront design of one place, Sip, Shop, Hooray, in particular, caught my eye. Taking a few steps back to get a better view, I noticed a bar in the back. Okay, I'm in. Not only that, but the place had Notorious B.I.G. cranking loud enough to hear from outside. It was a whole vibe. I learned that the venue is lesbian-owned upon entering. Amber (the owner), and her colleagues, Shelby and Miranda, made me feel like family from day one. If you have the luck of passing by, go right on in, try on some gender-neutral clothing, and tell them that Angie sent you. They'll take good care of you.
The second place that you won't find everywhere else is one that I had been waiting to check out. It is called The Saint and it is a queer-owned speakeasy brought to you by the same owners of Zazoo'd, a store I love and will definitely go broke for. It is a religious yet satanic experience. To gain entry, you must recite "the weekly sin," which can be found on their Instagram page. Inside, the red lights obscure your vision and you enter into a stylish lounge with devilish cocktails and firey burlesque. This was all on a Wednesday night, of course. Needless to say, I lived.
Dogs. Dogs, dogs, dogs, everywhere. If you're a dog lover, this is the place for you. If you're single, you probably need to get a dog to aid your flirt game. There is even a place called Dog Bar where you can go with your dog to have drinks with other fur parents. Ruff!
The beaches. Florida is known for its beaches and while St. Pete Beach and Clearwater Beach get all the attention, there are so many other amazing beaches to check out. Granted, each beach may not have the same open-mindedness you will find in St. Pete, but that becomes barely noticeable if you're soaking in sunshine or listening to the waves crash along the shore.
The Bad
Uhhhhhhh…Palmetto bugs?
Some places still use styrofoam for takeout?
Yes. Florida is still freaky.
Seriously, I'm grasping at straws. I really loved St. Pete and the primary issues I have with it have to do with Florida at large: Red state. Hurricanes. Destantis. Case closed.
Being Queer in St. Pete
To me, St. Pete feels like an oversized, flat Castro District. In other words, the whole city is gay. You see all different types of people and all are welcoming and accepting. A bubble for sure, like San Francisco, but it is a wonderful bubble to pop into.
Being Black in St. Pete
I feel like a broken record, but the city is actually very diverse. I was never made to feel different or less than by anyone, regardless of race, age, gender, or orientation. On different occasions, I met two old black men that grew up in St. Pete and each effectively said the same thing. Considering that I think old black men are some of the realest people on this planet, it is pretty hard for me to disagree here.
Final Thoughts
I hung my hopes on Florida being drama-free, which is a tall task for this state. To my surprise, it delivered above and beyond my expectations. It even served me three slices of home.
Taylor: a friend from college, originally from St. Louis, that just happened to be in St. Pete and reached out after seeing a social media post.
Millzy: another friend from college, who recently moved to West Palm, drove up to spend part of her birthday with me. Sunken gardens and adventures galore.
Mal: an entrepreneur friend moving to St. Pete to be closer to family and is joining the "Angie Moves to Florida" campaign. In all honesty, she would be a great "partner in crime" to run the streets of Florida with.
Will I be back?
I would have to have amnesia not to.
Could I see myself living there?
Listen…I actually let myself indulge in a guilty pleasure and looked at apartments while I was there. I eventually had to pryyyy myself out of a leasing office without signing, so that is a yes for those who are keeping score.
City Ranking
1. St. Petersburg, FL
2. Playa del Carmen
3. Austin
Next City
Atlanta, GA
---
Did you enjoy this story? Subscribe to our weekly newsletter to find out when new stories are published.
Learn how to join our Writers Cohort here.
Follow us: