After a wild ride in Mexico, I was ready to return to the US, faults and all. For those of you that haven't been following along, I'm on a 12 cities in 12 months tour for 2021 and chronicling my adventures.
My trek back to the good ol' US of A started at 6 AM as I drove from Playa del Carmen to Cancun. It took me 50 minutes to make a 38 minute drive. I was an embarrassment to myself but I was determined to drive like a snail so I could avoid extortion during my last few hours in Mexico. It's a good thing I took that approach because less than five minutes on the road, two cars flew by me and the third car was who? La Policia. Extortion averted.
United made the process of uploading my Covid test results a breeze and I went through the airport with little difficulty. Despite it being a state capital and a popular destination for fleeing tech companies from the Bay Area, Austin is not quite the hub that I thought it would be, as there were very few direct flights from Cancun. The ones that were available were way too expensive for my pockets. 
I found myself parked in Houston for four hours during a layover where I nerdily tallied up items for my taxes.
45 minutes back up in the air and I had finally made it to Austin. I arrived at my Airbnb around 4:30pm (5:30pm Cancun time) and was foiled by a Schlage lock, convinced that I was locked out. After too many ridiculous attempts at unlocking the door to count I managed to make it in once I spoke with the host. Whew.
The Good
The people. Every place gets a bad rap one way or the other about their culture. While I know that Austin is a bit of a bubble, I can say that Southern hospitality is real. Every single person that I encountered was incredibly nice. My first night, I shared on Lex – (a lo-fi, text-centered social app for the queer community) that I was in Austin for the month and that I was open to any recommendations. Within 24 hours, I had 30+ responses and chatted with a bunch of Texas queers.  
Art and Aventure. Like Mexico, Austin has amazing street art. Like a lot of it. Everywhere. Who needs museums when you can just walk up and down the streets? I love a good architecture moment and Austin does not disappoint by any means. The city is a never ending juxtaposition of historic, classic, and modern.
Food. By now you should know that I live for art and food. Everything is definitely bigger in Texas and frankly, it's hilarious how many dishes have the word Texas in their name. In addition to a bomb food scene, there is also an amazing selection of craft beer throughout the city. You can see some of the places I've visited here.
Little enclaves. While Texas at large isn't really built for walking – more on that below – there are little pockets of neighborhoods that are super cute and have great neighborhood pride.
East Austin was the first community that I investigated. A little bit artsy, a little bit hipster, this area hosts a lot of local cafés, shops, bars and more.
The Rainey Street Historic District is just….mmmph, chef's kiss. It's along the water, which is gorgeous on a sunny day- picture food trucks, museums, and craft beer galore. This is where the youths go to be seen. At least that's what I tell myself.
South Congress was one of the last neighborhoods I visited and it felt the most Texas. While it boasts tons of neighborhood pride, it's also full of shops that feature everything from trinkets that celebrate Mexican culture to authentic animal skin boots, cowboy hats, and leather jackets, as well as super glamorous jewelry. My favorite thing about this neighborhood, hands down, was: Lucy in Disguise with Diamonds. It is the nuttiest, kookiest store I've ever been in. It's a year-round costume shop, but that's selling it way too short. You have to go for yourself and see it in all of its amazing glory. 
The Bad
The adjustment period. An old coworker just told me that, "there are known unknowns and unknown unknowns."
One thing that I didn't take into account was the adjustment period that my brain was going to go through. Before I left Mexico, I had this mini panic attack that I wasn't going back home. In fact, I realized that I wasn't going to have a true "home" for a whole year. Not that this was new information, but it suddenly became real to me.
The adjustment period is not fun. At all. It actually feels like getting punched in the head. New surroundings, new people, trying to get your bearings. On top of that, I had to adjust from living with people to going back to living alone and dealing with the sudden realization that I no longer had to translate everything from English to Spanish and vice versa. English is my first language, isn't it? Funny enough, I still ended up needing it a bit as Texas has a large Lantinx population.
Car Culture. Transitioning from a city where most people walk to a city where most people drive was a bit of a shock. To be honest, car culture is not one that I vibe with. I understand it's a pandemic but there were so few people walking around in certain areas that it was rather eerie.
Texas "Leadership." When on an adventure you have to roll with the punches. I meticulously planned my itinerary to avoid winter because winter clothes take up too much real estate when you only have two suitcases. I guess mother nature wasn't having it because the polar vortex sent massive amounts of cold air in the middle of my second week and a snowstorm over my previous THREE. DAY. WEEKEND! To understand how Texans were dealing with this situation, "The Day After Tomorrow" was trending on Twitter. (If you haven't seen that movie, you definitely should). Thankfully, where I was, I didn't lose power and I had enough food to last me through the cold front.
That said, watching the drama unfold both in front of me and all over the news and social media was completely surreal. Every major news outlet shaved 24 to 36 hours all the time that people actually been without power. Meaning when news outlets were reporting that people had been without power for 48 hours, it was actually 72 and so on. The majority of people that lost power saw it happen around 1am on Monday. There were also a handful of folks who had their power cut on Saturday. Now I'm well aware that California isn't exempt from having utility issues or natural disasters, but the lack of leadership, response, and variable pricing for electricity here was completely ridiculous.
Aside from a small flurry of snow on Thursday, the majority of the snowfall passed by Monday. About that same time, I started to experience a bit of cabin fever. Even though I hadn't packed my winter clothes, I was smart enough to pack my winter gloves, a couple of scarves, and a beanie, because you never know. Two pairs of leggings, a pair of pants, a tank top, a shirt, a sweatshirt, a jacket. A scarf, a beanie, winter gloves, three pairs of socks, my rain boots and (of course) a mask later, I ventured out to see what hell looks like when it freezes over.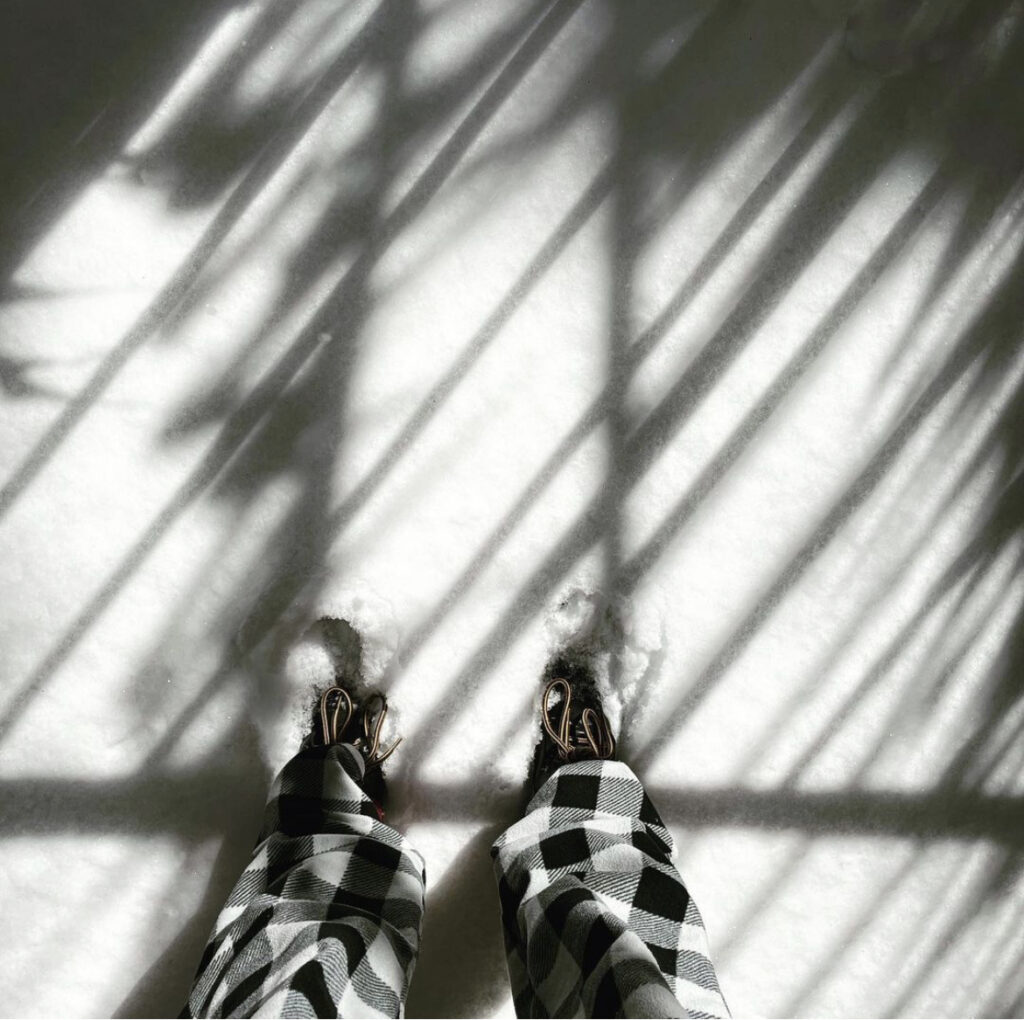 Now, if I really had my true winter clothes with me, I would've been LIVING! To be honest, it was quite a breathtaking sight. Completely fresh powder, completely quiet streets, and a few brave souls outside. It would've been a winter wonderland if it wasn't for the fact that Texas was woefully unprepared for this. They put sand on the roads to treat it before the snowfall. Yes, you read that right. SAND. They couldn't have borrowed 100 salt trucks and snow blowers from Minnesota, North Dakota, or anybody nearby that knows how to deal with this?! But I digress.
I ventured up the main street and to my surprise, there were over 50 cars lined up for Chick-fil-A and at least that same amount of people, if not more, standing outside for pick-up. I saw more people walking around that day than I had in my first two weeks in Austin!
Being Queer in Austin
Austin is definitely a progressive bubble within Texas. It's full of churches and almost all of them have pride flags or some sort of welcoming statement in front of them.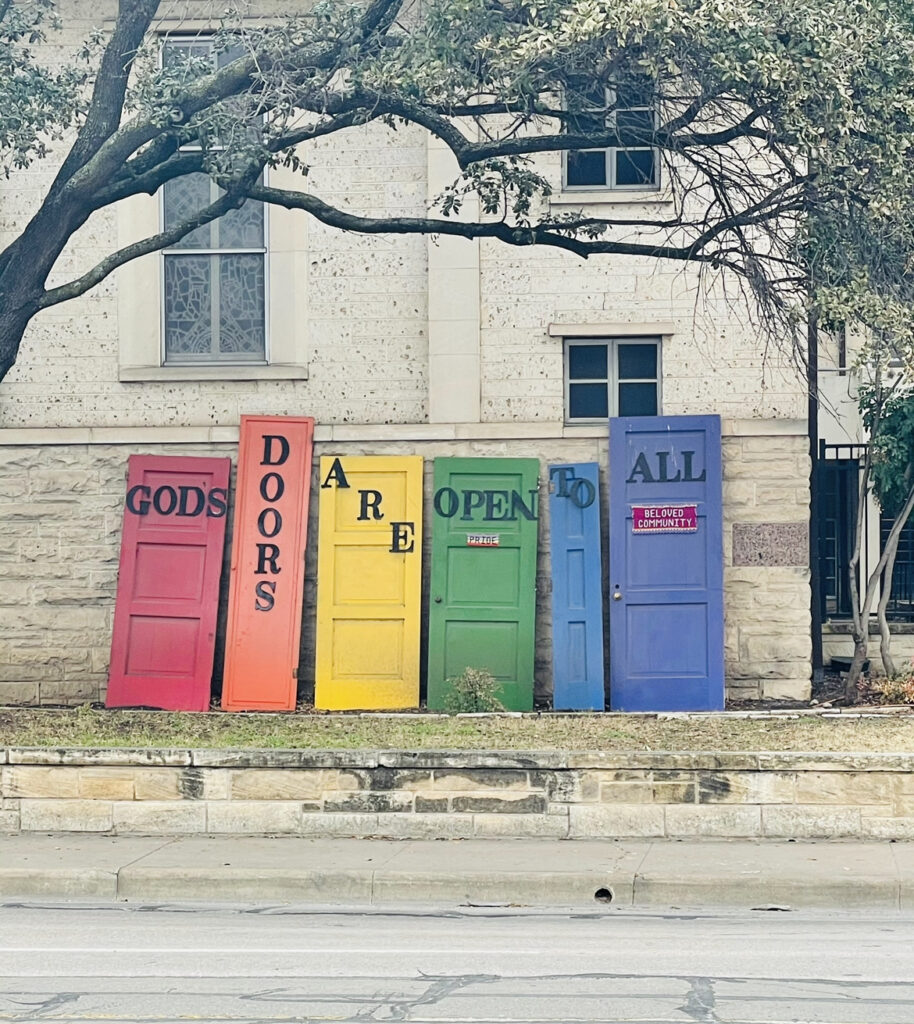 The gayborhood is on W 4th and even though it's small, it's definitely a good time. One of the few things that I miss about pre-pandemic life is going to a drag show. I was fortunate enough to catch a drag brunch show at Halcyon on my last full day. Nothing like a drag send off right?!
Being Black in Austin
Whenever I asked someone how they like living in Austin, one of the most common answers was related to how diverse it is. Each time I had to hold my tongue from asking, "Where?" Perhaps Austin is more diverse from the counties that surround it, but I didn't get the melting pot vibe that everyone talked about. Maybe it's the pandemic keeping people inside. Maybe it's the fact that UT Austin wasn't in full session for the semester. Or maybe you just have to know where to go. I definitely didn't feel like the only "other" on the street, but also, I wasn't really picking up what they were throwing down.
Final Thoughts
All in all, Austin is a great city. Great people, great food, a lot of different activities to get into, and a great pre-pandemic music scene. Prior to this trip, I had only visited once before for a few days during SXSW. At that time I found myself thinking the same things, unsure if the city was for me. I can, however, see the Bay Area vibes that attract people from my homeland. 
Will I be back?
I'll never say no to another visit, but just for a few days.
Could I see myself living there?
Now, in my Randy Jackson from American Idol voice, I can comfortably say, "It's a no for me, dawg." The car culture thing really weighed on me but watching the state government unravel in front of my eyes put the nail in the coffin.
City Ranking
Playa del Carmen
Austin
Next City
St. Petersburg, FL
P. S. You can follow my adventures in real time on Instagram @angieandthechipmunks
---
Did you enjoy this story? Subscribe to our weekly newsletter to find out when new stories are published.
Learn how to join our Writers Cohort here.
Follow us: